An Engineer By Profession Actor – Director By Passion Shadab Khan An Artist With Triumph
——-Raja Sarfaraz
Shadab Khan, a theatre artiste , Actor and Director from Smart town Reasi encircled by Trikuta Hills in the Lap of Shri Mata Veshnu Devi  Jammu and Kashmir who is administering Government of J&K as a Civil Engineer (JE) but an epitome of Art and aesthetics inside, we have an inspiring story of Mr Khan who  commenced his  career back in 1992-1993 under the banner of DYNA Creative art which was scuttle by Late Sh. Sudarshan langeh And under that banner  ,He has accomplished many plays and solo acts also.
In 2000-2001 Er. Khan  was selected for the 1st phase of young theatre artist workshop Jammu(Mansar) which was organised by Sangeet Natak Academy ( New delhi). In that workshop 57 artist were selected from j&k and in that workshop  did myriad performances and comprehended many new things related to theatre. From that workshop judges selected only 3 artist for the next phase he says " by the grace of God   I was also among the Top 3 and that's how I got selected for 2nd phase of that workshop. Again in 2002-2003 I was selected for the 2nd phase of workshop in Sanskrit Kendre Anandgram which was also organised by Sangeet Natak Academy. The director of that workshop's camp was Sh. J.N. koushal."
He distant expands his experience and says
"During that workshop we got a recourse to work the experts of that field and acquired many new techniques which are still very useful. It was certainly a very great experience working with masters like Sh. Ratan Thiyan, Sh. Shashidhar Aacharya, Sh. Satish Anand, Sh.J.N Koushal, Sh.Ahsan Baksh, Sh.gourav jha, Sh.mushtaq kak, Sh. Niranjan Goswami, Sh.Atul kulkarni, Sh.kiran bhatnagar, Sh.O.P. bharti, Sh. Suresh Bharadwaj, Sh. Dolly Ahlluwalia and multiple more and we have seen the production of Drama world. In the 2nd phase of workshop we were very lucky as we got an opportunity to work with some actors from the Hindi film industry like Sh. Naseeruddin shah, Smt. Sushma seth, Sh. Amresh puri, Sh Satish koushik, Sh. Sourav shukla, Sh. Anupam Kher, Smt. Seema vishwash, Sh. Ratna pathak, Sh. Mohan agashe etc"
Subsequently that  he came back home and turned on his own theatre group by the name of Abhinaya Kala Mach Reasi in 2003-2004.
Under this banner he  created an enormous team and have performed various plays in several fora like Spartacus, Taj Mahal Ka tender, Fansi etc. My group has performed in district drama festival organised by J&K Academy of Art,Culture and Languages and achieved the title of best production 3 times in row and 2 times for Best actor.
Mr Khan maneuvered in Doordarshan TV serial
* Ham Panchi ek daal k
*Wapasi
*Roshni( it is yet to be released)
Furthermore, these  have also toiled for OTT series which are yet to be released
*Gangster
*Ajab prem Kahani
Movie- Ishq wala pyar again directed by Mr Shahid Kazmi, also has shown his craft in some Bollywood movies like
*Wishes(The power of Faith)
Khans Mission 70 was recently released on Master Tv in which Shadab is tinkering with negative Roles, The Upcoming projects of Khan are Barood, Chorus, Shakar Masala TV serial, and Films including Gang war Era 1990 and 80s.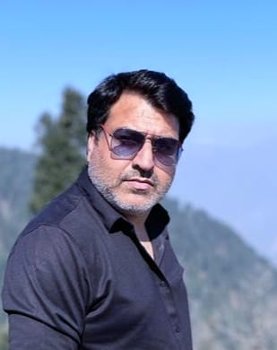 An  Engineer By Profession Actor – Director By Passion Shadab Khan An Artist With Triumph